The following appears in the July 1998 issue of Long Island Entertainment:



The Slant: "Try This" (Rock Diva Records)
by Slappy Morgan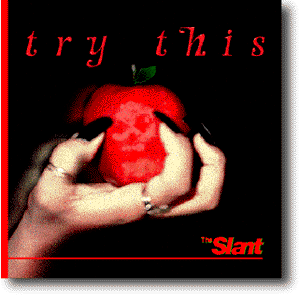 If you miss anything from the B-52's to Blondie to Nena to Nina Hagen to Lene Lovich, boy...have we got a solution for you. If you grew up with a fond affection (or fetish) for the airy, girl pop of the 80's, The Slant will feed your addiction with a whole new level of thrills.
First up, you got to respect a band that can work lines like "cryptologic E.S.P.," "Give me your rubber ducky, hit me with that duck" and "shattered spirits reaching for a glimpse of magenta dawn" into the SAME album. The quartet of Denise Hughes (vocals), Bill Clark (vocals, guitar, bass), Tom Menninger (keyboards) and Rich Spohn (drums), together, The Slant, know how to take you in a lot of funky directions, tossing out chunks of pop, torch songs, eccentric rock and danceable ditties. Whether they're coming at you with pure pop, as they do on "Call You On The Phone," waxing romantic, as evidenced on "Simple" or going deep on the world condition as they do on "Nuclear Age," this band shows a lot of different faces, alternating the vocals between Hughes and Clark and weaving in and out of instrumentation that shows a terrific level of versatility. You also gotta give a band that writes a tune about junk mail (which is a hoot!) their "props."
It won't take you very long to decypher the intent of Try This, its message is simple: have F-U-N. From the illustration on the back of the band's feet with toe tags (I'm still working on that one, I must admit) to the anything-goes cavalier spirit, The Slant will either seem bizarre, or as joyous an experience as being young and waiting for your oddball uncle to drop by with his magic tricks, tall tales and ability to make you laugh at the silliest thing. You know, kinda like the B-52's make you feel.

---

The following appears in the July 6-19, 1998 issue of The Island Ear:



The Slant: "Try This"
by Christine Reslmaier
A call to arms for bored Long Islanders, The Slant's Try This separates itself from the current crop of monotonous rock bands. At times eerie and generally pretty out there, most of the album is wacky innovative pop. The alternating male and female lead vocals weave a dense web of dark, beautiful harmonies that lyrically reveal tales of love and life. Musically, Try This has a definite '80s vibe, so if you long for the carefree sounds of that decade, suit up and try the Slant.