The following appeared in the December 1997 issue of Long Island Entertainment:



The VIBS Benefit at New York Avenue
by John Blenn
It's almost impossible, for better or for worse, to try and compete with the NFL for people's attention on a Sunday afternoon, but for Richard Hughes, there was an excellent reason to give it a shot: VIBS. For those of you that aren't quite sure what those letters stand for, know that it is the abbreviation for the Victims Information Bureau Of Suffolk County, a not-for-profit organization that provides assistance to women who have been raped, battered or abused. Though Hughes' call to arms for support for this fine organization deserved a better fate, those who did attend couldn't have dreamed of a more entertaining afternoon of music.
Hughes, a circuit fixture who recently launched a fanzine celebrating female musicians (Rock Diva), coordinated his debut issue party with the fund-raiser. Gathering four excellent bands with a female spin, Crystal Rose, The Slant, the basals and Iridesense, the five-hour show was marked by rich vocals, an endless stream of fine songs beautifully executed and that oh-so-rare-spirit of camaraderie. The fan who turned out had his money's worth with any ONE of these groups, but to experience such a cavalcade of fine groups made it one of the Island's shining moments of club shows this year.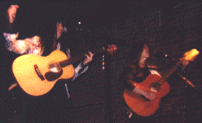 Crystal Rose, the outstanding duo of Lori and Jody, were the perfect starting point as many of the audience members were easing coffee into their system and still waking up. With a CD, "Look Inside," on the racks and plans to record a new one early in '98, it would be hard to imagine the harmonies of these women getting any better in the days to come. If two people were ever born to sing together, it's this pair, as they effortlessly soared through songs like their introspective "River's Edge"and the autobiographical "Alley Park"with power and grace to spare. They're clearly to womanhood what Simon & Garfunkel are to male duos, smart soulful songwriters who share their joy for their art in a warming manner. Lori, who also doubled on flute for a couple of numbers, and Jodi compliment each other as acoustic guitarists in addition to their vocals, and if you're looking for intimate music that'll touch your soul, these ladies are the path you want to take.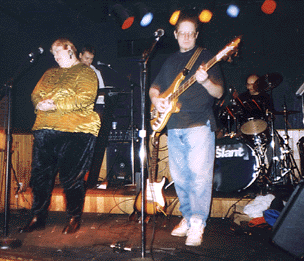 The Slant, fronted by Denise, immediately changed the groove of the afternoon and sent out the message that this show would not lack for diversity. Denise, guitarist/bassist/vocalist Bill, keyboardist/vocalist Tom and drummer/vocalist Rich, collectively The Slant, have been called everything from "eclectic" to "weird" and I'd have to say those are accurate parameters. Showcasing a lot of strong, original pop from their new debut album, musically they'll bring to mind artists like Blondie, Lene Lovich and Spider. Visually they are an entity unto themselves. Bill switched off lead vocals with Denise to give the set some nice changes of pace, as they scored with songs such as "Morse Code," "Junk Mail," "Gameplayer"and "Sell Me." A faithful rendition of the Rocky Horror Picture Show's "Science Fiction Double Feature"came as a pleasant surprise, though it wasn't used to connect originals. Of course, it's not hard to picture this group being influenced by a lot of the classic counterculture offerings. The Slant is determined to carve out their own space and they're doing it the way it should be done: marching to their own beat and seasoning it with a lot of tried and trued flavorings. A band to watch for.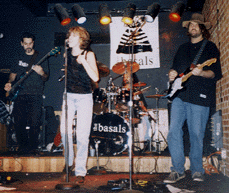 Up third and roaring onto stage "loaded for bear," the basals took the room by the throat and shook them. Magically arriving at just the right time to kick the afternoon into overdrive, the Indigo Records artists came out of the game with their aggressive "Time Flies"before making a transition into the wistful but up tempo "Thoughts Of You." Led by dynamo first class Holli's energetic showmanship, stringmen Wil and Mike fluidly moved in and out of a set with the full serving of alternative styles. Ear-catching were new songs such as "Under"and "Kingpin,"both slated for their early '98 3rd album (following a debut CD and live tape), as well as staples such as the bopping "Dog's Life"and the slashing "Apology,"the latter of which would remind you of The Monkees' "Stepping Stone" at points. Throughout, new drummer Joe anchored the controlled mayhem with superb taste and by set's end, there was no doubt why this group is hailed far and wide as one of the Island's absolute best.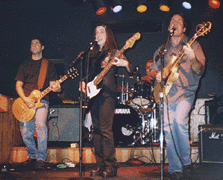 Closing up the showcase, but by no means anticlimactic, was the brotber/sister-led Iridesense. With a self-produced debut CD on the near-horizon that chronicles their several years of outstanding work around the area, Tara & Rick (vocalists/fomer bass/guitarist latter), lead guitarist Rob and drummer Rick's Iridesense shows some incredible pop sensibilities. Recently involved in an original L.I. Theatre Production that showcased many of their songs, (the team) seamlessly traded leads back and forth on nuggets such as "Nice Try,"which has hit single written all over it, "Dangerous,"which is a fine, flowing pop track and "Need A Holiday,"a set-ending rave-up that put a big bang into the close of the proceedings. If you haven't driven out to see this band yet, HEY! The limo's not coming, get in your car and move. You're cheating yourself staying home with your Sega play-station.
A quality effort all around, the noble work of Richard Hughes & Rock Diva to help out VIBS was a winner whether they made their target numbers or not. The nice part is this: If you missed it, you can catch Crystal Rose, The Slant, the basals and Iridesense around the island, you just won't get the bargain of seeing them all together. AND...if you meant to help VIBS, but couldn't get there, you can call them at (516) 360-3730 if you'd like to make a contribution. Their hotline, if you're in need, is (516) 360-3606.