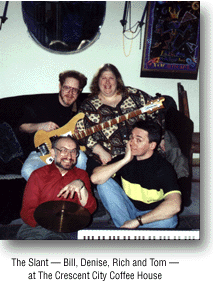 The musicians who would become The Slant were introduced to each other almost all at the same time, in the last half of 1979. They had all just finished college, and were feeling the need to shake off all those academic responsibilities and concerns, and sink their teeth into something both fun and worthwhile. That summer, drummer Rich -- who was actually playing keyboards back then -- had hosted a combination jam/recording session in his attic to record a friend's original political-satire song, and was introduced to Bill, who was to play bass on the recording. Bill and Tom had gone to high school together, and had already collaborated on quite a few music projects; they met Denise also around the end of '79, and by the turn of the decade all four people were fast friends.

Early on in the 80's, Denise, Bill, Tom and Rich decided they each had something to bring to a communal project and started creating and playing music together. They decided to call their new band The Slant. Denise, Bill and Tom were all writing songs at this point -- Denise wrote mostly lyrics, Tom wrote mostly music, Bill wrote both, and Rich also added musical ideas to the mix, producing some fine songs early on which included "Call You On The Phone," "Morse Code," "Since I Met You," " Sell Me," "It's Over,"and others. The configuration of the band fit well with the new-wave, techno flavor of pop music at the time: Denise sang mostly lead vocals, Bill sang lead and backing vocals and also played guitar or bass guitar (depending on the song), and Tom and Rich played keyboards. Percussion was supplied by a drum computer (or, in 80's terminology, a "drum machine"). In most of the songs, Tom would play keyboard fills and riffs and play left-handed keyboard bass when Bill played guitar parts, and Rich would provide harmonic pads and sequencer-style ostinatos and pedalpoints on his rig. The band actually recorded two multitrack demo songs in a friend's home recording studio, "Call You On The Phone,"and a very techno-sounding version of "Morse Code."

In 1982, new commitments and work pressures forced Rich to make a decision to leave the band. It was unanimously agreed that another mutual friend, Chris, an accomplished keyboardist and synthesist, would take his place in the second keyboard position. The band continued to write new songs and practice a stage act for the next few months, and finally got their big break with a summer night's gig at the then Camelot Inn in Mineola, Long Island, the same club that had hosted Billy Joel early in his career.

After the Camelot Inn gig, the pressures of day jobs and new responsibilities took their toll on the rest of the group, and The Slant was disbanded -- but not dispersed. In fact, all five of the people associated with The Slant remained very good friends, and frequently hung together in their free time through the many years after the band's mid-80's suspension. Bill and Tom continued to write and play music together. Bill further added to his musical repertoire by writing folk/jazz tunes ("Diane," "Outside My Dreams," "Blue-Eyed Gypsy,"and the ever-popular and slightly warped, "Rubber Ducky,")and playing them on open-mike nights at the late, legendary Folk City nightclub in New York City, with Tom, Denise, Rich and Chris providing support in the audience. During this time, Bill met his future bride-to-be, Jennifer, and was inspired to write the hauntingly beautiful "Jennifer in Blue." Denise also met her future mate, a tall, handsome guy with a big heart filled with love for her, also named Rich (her song, "Simple,"is dedicated to him). This circle of friends continued to stay together through many weekend hangs, parties, group vacations and skiing trips, throughout the end of the 80's and into the 90's.


---
In the Springtime of 1995, someone in the group (we're not sure who) suggested that Denise, Bill, Tom and Rich, the original members of the band, should start practicing the old songs again, "just to get them good enough to record on tape so we all have something to play for our kids." The friends all thought it sounded like a pretty good idea, and started booking time at a new rehearsal facility in Garden City, Lyric Studios, to polish the old gems and refine some new ones that had been written since the first incarnation of the band. Rich had always had an interest in percussion instruments and had taken drum lessons in the years between groups; he played the drums at a jam session, and the group liked what they heard. Thus was born the present configuration of the group, with Denise singing lead vocals, Bill on lead vocals, guitar and bass guitar, Tom singing backing vocals and playing keyboards, and Rich playing drums and also singing backing vocals. By the start of the Summer they were rehearsing regularly, but had not yet decided what to name the new band.
Though they had intended to reform the band strictly to record their music, an opportunity arose to play live at a backyard party hosted by Chris that summer. A band name was needed! After some thought, the foursome decided to retain their original name, The Slant. The party was a great success.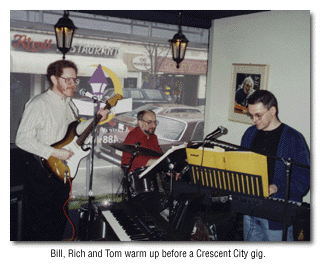 Around this time, friends of Tom opened a restaurant and coffee shop in Floral Park, the Crescent City Coffee House, and invited many local musicians to play there during the evening hours. Playing live felt really good to the members of The Slant, and they quickly expanded their goals to include frequent bookings at Crescent City, playing to a packed house most of the time. Denise's husband, Rich, was elected manager of the band, and dove into the job with the fervor and zeal of an evangelist. Soon, thanks to his networking skills and hard work, the band was playing numerous clubs around Nassau County and Queens. The magic and electrical energy of "playing live" had created a new entity: The Slant had become a live band.


---
In August of 1996, after practicing and playing their music together for about a year, manager Rich booked The Slant into Scewy Louie's in Uniondale, on a double bill with another up-and-coming band he had befriended during his many nights out scouting the local music scene, the fiery, in-your-face rock group, the basals. These talented musicians had already turned out a fine debut CD, Dive,for which they had actually constructed their own recording studio, Dare Studios in Deer Park, after becoming dissatisfied with the services of existing studios in the area. Their bassist, Mike, who doubles as owner and producer/head engineer of Dare, liked what he heard in The Slant's eclectic collection of original music. The Slant had seriously been considering recording and releasing a compact disc of their own, and had even started shopping for a studio, so Mike offered his services as producer and engineer. The Slant admired the basal's music and recording style, and felt that Mike had exactly the right vision they needed to sculpt their recording project. The first tracks for The Slant's debut CD were laid down at Dare in February, 1997.
Sadly, the Crescent City Coffee House, which The Slant had considered their "home," closed up shop in the Spring of 1997. The Slant will forever be grateful to Rose and Pina, for giving them their start in live music, and for encouraging them to always play better and have a good time doing it -- and also for the fabulous food!!! Miss you...
The band was forced to look farther afield for live venues to play. They entered the Long Island Music Festival in Summer 1997 and finished second in the first round, with good reviews. The summer season also saw the band's debut on the Manhattan club circuit.
Today, things are looking up for The Slant. Their CD "Try This!" has been distributed far and wide, a special Christmas CD is in production, and their current repertoire includes enough original material to fill two more full-length compact discs (double album, anyone?). They have played all over Long Island and the New York metro area, including such diverse venues as McGovern's, Eureka Joe's and The Spiral in Manhattan, The Outfield Inn in Queens, Screwy Louie's in Nassau County, and New York Avenue, The Raven, The Spot, the Wrong Way Inn, Summers, Joe Michaels Steakhouse and Harry's Bruncheonette in Suffolk. They have been profiled and had their songs played on FM radio, and their music has received glowing reviews from The Island Ear and Long Island Entertainment News.